The best protection

for

valuable property
In Sweden, large quantities of exclusive cars, boats and motorcycles are stolen every year. Construction equipment, wheel loaders, excavators, cranes, tractors are also valuable targets for thiefs - Several hundred disappear without trace every year.
Most of the stolen goods have already left the country before anyone has even reported the theft. This does not have to be the case.
When your car, boat or any other equipment us monitored by Followit Guard ™, you can track it if it is stolen and get an alert if it moves. The solution works worldwide and even outside GSM coverage. It offers very high retrieval rate and is recommended by insurance companies.
The small transmitter is easy to conceal and impossible to jam. The device protects all kinds of valuable property and can be either purchased or rented.
What is Appello?


The Appello tracker requires no complicated setup or maintenance. Nor does it drain the vehicle's battery. The unit comes pre-charged and active from the start with an installed SIM card. The rechargeable batteries will last for up to 12 months. When less than 20 percent of the battery remains an alarm is sent via SMS or email. Simplicity and ease of use is in focus when it comes to Appello. The only thing you need to do is finding a good hiding place.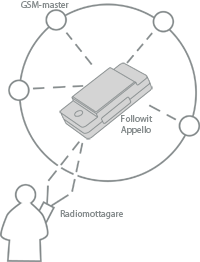 Appello is a tracker that uses two positioning methods. GSM technology uses the mobile operators' base stations for positioning. The technology requires no external antenna, and unlike a GPS it does not require clear view of the sky. A major advantage is that you get a position even if the tracker is indoors, in a garage or in a container. Often the GSM position is enough to find out where the Appello is located. If necessary, the unit's exact position can be traced using radio tracking.
Benefits
Requires no installation
Compakt - easy to hide
Built in, rechargable battery
Up to 12 months battery time
All antennas integrated
Battery alarm at low battery
GSM-positioning
Radio transmitter – for radio tracking
Global usage
Resistant to preasure, chocks and vibrations
IP67 certified - resistant to water, mud and dust