Tellus GPS/GSM Study of White-tailed Deer in Suburban Philadelphia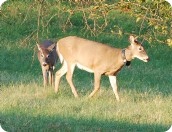 This study is conducted by Bryn Athyn College (http://www.brynathyn.edu) and the Pennypack Ecological Restoration Trust, PERT, (http://www.pennypacktrust.org) with financial support from the Doering Trust.
PERT is a private non-profit trust that manages a 2.91 km2 mixed forest, meadow, and floodplain area along the Pennypack Creek in suburban Montgomery County, southeastern Pennsylvania, USA. This wilderness area is squeezed between densely populated residential and industrial areas, and is therefore naturally a target for visits by both suburban deer and humans.
Our study aims to determine individual deer movements, at high precision in space and time, within the wilderness areas of PERT and its surrounding residential private grounds. So far we have found the Tellus GPS/GSM collars to be well suited for both the study animal and the terrain. A dense grid of GSM towers in the area made the choice of this collar technology especially appealing.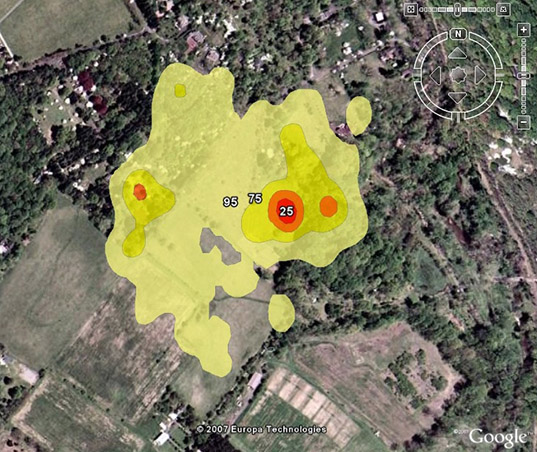 Map showing the kernel home range of a female white-tailed deer incorporating ca 15,000 GPS fixes over 1.5 months. The map shows that the deer stays most of the time in areas with a particular type of shrubby vegetation. The intensity of the shades refers to 25, 50, 75, and 95% probability polygons.
In addition to high-resolution tracking data, we also plan to supplement our study with data collected from vegetation impact surveys, road and hunter kill analysis, and molecular genetics analysis.
For more information on the project contact: Eugene Potapov (Eugene.Potapov@brynathyn.edu) or Fredrik Bryntesson (Fredrik.Bryntesson@brynathyn.edu).
Bryn Athyn College
2965 College Drive
Bryn Athyn, PA 19009
USA